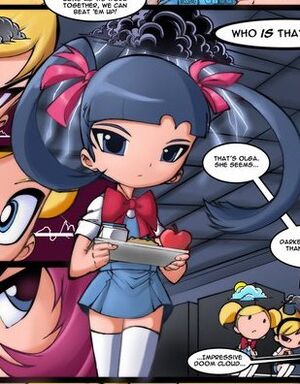 Olga Ostrominov a.k.a. LalaVava is the sister of Susan Ostrominov a.k.a. Mandark.
She is known for her doom cloud.
She somewhat likes to annoy or 'bother' Mandy.
Apparently Bubbles doesn't care that,Bubbles idolizes Olga because she's the best dancer in the Megaville Elementary Dance Troupe.
She was away and was living with her guardians.
And, if anyone said "Ostrominov" (or maybe LalaVava) a rainy cloud (doom cloud) will appear.