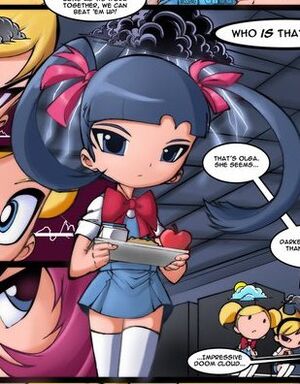 Olga Ostrominov a.k.a. LalaVava is the sister of Susan Ostrominov a.k.a. Mandark.
She is known for her doom cloud.
She somewhat likes to annoy or 'bother' Mandy.
Apparently Bubbles doesn't care that,Bubbles idolizes Olga because she's the best dancer in the Megaville Elementary Dance Troupe.
She was away and was living with her guardians.
And, if anyone said "Ostrominov" (or maybe LalaVava) a rainy cloud (doom cloud) will appear.
Ad blocker interference detected!
Wikia is a free-to-use site that makes money from advertising. We have a modified experience for viewers using ad blockers

Wikia is not accessible if you've made further modifications. Remove the custom ad blocker rule(s) and the page will load as expected.