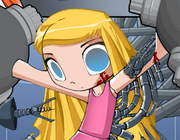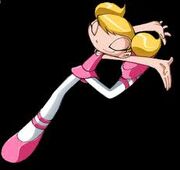 Deedee is Dexter's sister. She has long blond hair color, she also wears a pink ballerina top and matching skirt. Including the shoes and white socks she wears. Deedee also wears a white dress (in Heaven). She was dead because a laser that a robot that Mandark made. Dexter was saved by Deedee. The price, Deedee was dead. And Dexter tried to make her sister alive again.
Deedee was bring to Heaven by Grim Reaper. Before the death, she was in Dexter's Laboratory all day and wreck everything in his lab. Mandark was inlove with her. But... when Deedee is dead, Mandark was heartbroken and say himself guilty.
When Blossom is killed after being captured by Mandark to hurt Dexter, she interrupts the Grim Reaper taking Blossom away and asks to give her more time and does mention before she disappears that she will be coming back again.
She was 16 years old girl.
First Shown in Comic
Bubbles? (Appear as an android)
Stupid Sister (Appear with Dexter)
Dee Dee
Dexter's Past
Promise
Sacrifice (Shooted by a laser)
Retreat
Grim Funeral (Appears with Grim Reaper)
Deedee Returns
Family
Dexter (little brother)
Mom
Dad
Nickname (s)