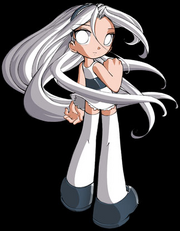 Bell is a white shadowpuff that wears the same outfit like the other powerpuff girls (Blossom, Bubbles, and Buttercup), Bell have a long white hair. She live with Docter X and playing "evil". In the first met with Blossom, Blossom don't have any idea why Bell attacks her. She also have a friend name Gir (Girly). And, Bell is always alone before she takes Gir.
First Shown in the Comic
Gir Bangs
Cinematic Battle
ALSO SHE NOT A POWERPUFF, SO GET THAT THROUGH YOUR THICK SKULLS YOU DUMBASSES!!!